Main Page
From Haibaniki
This is a test website.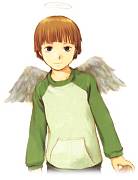 This is a Wiki about Haibane Renmei. We currently have 197 articles, and a number of users.
It was started by the OHBB forum community on August 25th, 2006.
Spoiler Warning!
This site contains
Spoilers
, and
we
strongly recommend watching the
Anime
first before reading it.
There is a
Spoiler Free Area
for those who have not finished it yet.
The HaibaneWiki Project

HaibaneWiki

Old Home Bulletin Board